PLEASE CONTACT US
BEFORE
PURCHASING A UNPUBLISHED BETA SOFTWARE!
---
GTOPO30 worldwide 30 arc sec. elevation data
Thanks to the publicly available data, also used to grid the X-Plane env files, PATHy can now access the elevation data without being fooled all the time by new scenery file formats... Together with the MapBlast road maps, you get all the visual information you need for a proper VFR flight across any
part of the globe.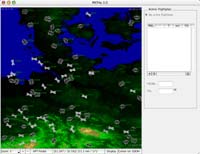 [gtopo view 2]


---
Airport & runway info @ your mouse tip
Look up crucial airport and runway data directly on the Map display. A translucent hoovering window shows airport detail data (including mag var where available from DAFIF), airport radio frequencies, available runways and runway detail data.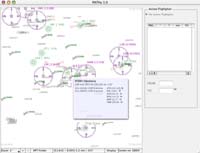 ---
Improved airport browser
The new airport browser is vastly improved in terms of ease of use and it provides crucial information in a second or two. Beside the interface redesign, the airport browser also got a face lifting in the runway and taxiway display.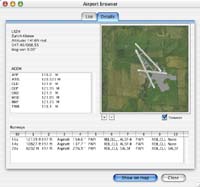 ---
Pilot Logbook
Another low cost module is a simple, yet effective logbook system to easily save and manage planned and performed flights. Planning a flight does automagically store the flight in the internal logbook database. Previously planned flights can be quickly looked up for later re-use. And you get basic statistics for your flight activities. [screenshot not yet available]


---
All new interface
The feedbacks I received all went into the process of evaluating a better interface for PATHy 3. The functionality has been reassigned and the controls have been rearranged to allow for a more logical, intuitive and easy navigation and planning.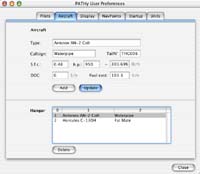 Quick and easy handling of multiple predefined aircraft and pilot identities makes it fun to work for more than one airline...


---

So, you see, PATHy 3.0 will really be different from all previous PATHy versions. There are many more little improvements waiting for you as a future PATHy 3 user... but since PATHy is currently in early alpha developpment, there is no final information available.

A few things will be gone. Partly because the feedback I got showed that there is little or no use for the feature, partly because the feature caused me so much trouble and many hours of support... some other features have simply been replaced with something better, so you won't be sad about their disappearance.

- X-Plane navigation data parser
I will do the initial parsing for you, and you lucky guy (or gal) will get a properly formatted, 100% PATHy compatible database for free. So, this is good news!

- Splicer application
This tool has been partially integrated into Pathy 3. There will no longer be an option to output X-Plane subset files. I simply don't want to deal with the X-Plane file formats more than absolutely nescessary.

- Drawing flight plans / legs
The process of planning a flight is now more straight forward, and more data points are available, so the drawing of legs has been discarded in favor for other ways of planning.



Time to send me your wish list
PATHy 3.0 is still in alpha stage. So, sending me your ideas and whish list of new and improved features gives you a fair chance to see them implemented in the next release of PATHy flight planner.


Interested in becoming a beta tester for the new PATHy?
Being a beta tester means you have the chance to test the application early, and have some influence on the final product. It requires you to spend at least 2 hours per week for a period of 2 months, and report back found bugs, visual quirks and other impressions. Interested? Get in contact with me.